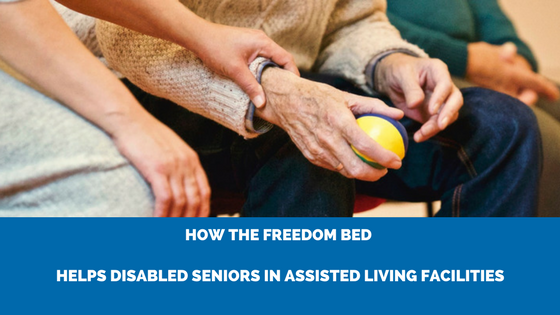 Life dictates that our parents assume the role as our primary caregivers until we can care for ourselves. Somewhere along life's journey, we may be called upon to assume the role of caregivers for them due to age and/or disability.
While this need is a life-altering decision, some families find that caring for their loved ones 24/7 is a task that is better suited to the professionals at assisted living facilities.. Whatever the circumstances - we're all seeking to give our aging parents a certain quality of life that helps them live the best and richest life possible.
When our disabled parents and/or loved ones require around-the-clock care from the professional staff at a facility, one of the most pressing needs is a good night's rest.. For many disabled seniors, ProBed Medical's Freedom Bed is the perfect answer to provide a good night's sleep, every night and protection from serious medical problems resulting from disability..

What is Assisted Living/Disabled Senior Housing?
Many Assisting Living Facilities provide support to seniors living with disabilities that require specialized care; both the assistance they need to lead a more fulfilling life, as well as the security and reassurance that they can make great strides towards living as though they possess no disability.
Assisted Living Facilities provide monitored accommodation, meal service and a wide variety of activities to enhance the quality of life..

Benefits of the Freedom Bed
In an Assisted Living Facility, the Freedom Bed excels by offering support staff the flexibility they need to care for multiple individuals simultaneously. The automated nature of the Freedom Bed's approach to kinetic therapy and frequent turning of the body means that nurses and staff can effectively budget their time to those who may require more direct care.
The Freedom Bed is not only capable of significantly improving the users quality of sleep, but its use substantially reduces the likelihood of developing pressure ulcers (bedsores) and provides a significant reduction of respiratory problems and urinary tract infections associated with immobility. The silence and smoothness of the Freedom Bed's patented rotation system means that users are not woken by the bed turning, resulting in a sound night's sleep, every night. Better sleep improves mental clarity and a better sense of well-being - not to mention independence from facility staff during the night.
The bed is designed to mimic the body's natural nocturnal needs and helps to re-establish and distribute blood flow to compressed tissues. Rotations can be timed to suit individualistic sleep patterns and desires.

Easier on Staff
For staff, the inclusion of the Freedom Bed in Assisted Living Facilities means protection from developing debilitating back, neck and shoulder injuries associated with manually turning disabled individuals during the night. This inevitably leads to less injury time off work, fewer workers' compensation claims and the need for temporary replacement staff. It also has a positive impact on staff turnover and reduces the time spent recruiting, training and hiring new staff.

Quality & Ease of Use
The Freedom Bed comes in three models and all are powered by a low-voltage 12V system eliminates the threat of electrical shock to the bed-user or the caregiver responsible for its set-up. The bed's built-in battery system is capable of powering the Freedom Bed for a number of days in the event of a prolonged power outage. During regular use, a 'smart charger' on the 12V system ensures that the battery is always fully charged.
The Freedom Bed is constructed with the highest quality materials available, including stainless steel pins housed in composite mounts that eliminate the need for regularly scheduled maintenance. The frame consists of high-strength, corrosion-resistant and lightweight aluminum and is designed to provide rigidity and strength. Head and footboards are made of wood to boost the aesthetic appeal of the bed and provide a solid housing for the mechanical and electrical components of the bed, while the air-powered torso and leg raising systems are constructed of clinical grade fabrics that have successfully undergone strenuous and demanding testing.
The bed is programmable, allowing time and rotation settings to be added to meet the specific needs of the client. Alternatively, the bed can be easily be switched over to the manual operation mode to independently adjust the rotation settings.
The Freedom Bed offers a multitude of positive features and capabilities to the staff of Assisted Living Facilities. Its ease of use features a strong hybridized approach that blends its ability to cater to the needs of its users while maintaining a confidence-inspiring and straightforward means of operation for professional staff. In short, the Freedom Bed not only helps to efficiently manage time, frees up staff, reduces downtime, time off-work, but boosts the quality of life for its users. Proven, effective care of clients/patients combined with minimal maintenance requirements makes the Freedom Bed is a perfect solution for Assisted Living Facilities.