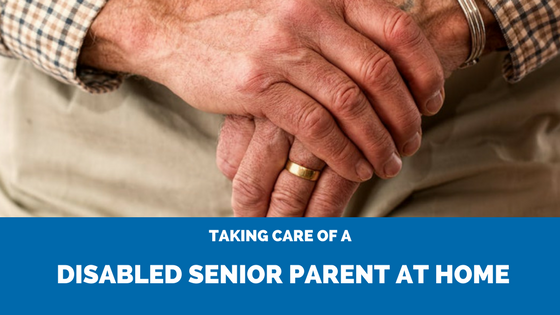 When we're children, our parents do everything in their power to make our lives as perfect as possible. As kids, we're the recipients of lovingly cooked meals, bedtime stories and all the other little things that help us to feel loved, protected and like we truly matter.
At a certain point in our lives, our parents become the ones who require the additional love and attention that they gave us so long ago. They'll need us to offer ourselves to them as caretakers and, as their children, it's our distinct honour and responsibility to reciprocate.
Taking care of our disabled or aging parents at home is a very real part of life's journey. As good as it may help us feel, it can be a tough subject for some and holds the realization that our parents aren't the strong and invincible people they once were to us.
Quality of Life is always on top of the list when caring for a disabled senior parent at home. We want to see and ensure that they're comfortable, well rested and happy - and understandably so. Reduction in anxiety and stress is a primary benefit to both caregivers and family members. When we're able to feel as though our loved ones are happy and well cared for, we feel a certain sense of calm and accomplishment that improves the energy and mood within the household.
ProBed's Freedom Bed provides its users with exceptionally comfortable sleeping options that improve circulation, reduce gastroesophageal reflux, provide better respiratory health and better overall quality of sleep. The automatic lateral turning of the Freedom Bed lends itself to helping the individual feel a powerful sense of independence, providing relief and prevention of painful pressure injuries through kinetic therapy. The increased frequency of body rotation/repositioning helps to relieve pressure on the skin, re-establishing blood flow to compressed tissue.
Perhaps the best aspect of taking care of a disabled parent at home, with the assistance of the Freedom Bed, is the simple fact that they're at home, and not in an institutionalized long-term care facility. The benefits of quality sleep are profound and hugely affect the quality of life for human beings. Better sleep contributes to improved mental clarity and to an enhanced, more dignified, lifestyle.
The Freedom Bed is able to provide these distinct qualities through its powerful features. The bed has been designed to provide optimal comfort and better health outcomes, employing its lateral rotation system that can be set manually or automatically to mimic the body's natural nocturnal movements. The bed's quietness does not disturb the user's sleep patterns, helping to provide crucial uninterrupted sleep. The Freedom Bed's programmable cycles mean that caregivers can fully customize the perfect sleep schedule for the user. A typical turning schedule may look something like:
Horizontal for 30 minutes
25° right-side for 1 hour, then
27° left for 45 minutes
Horizontal for 30 minutes, then
Repeat cycle
The unique low-air pressure torso and leg raising system also helps to deliver other quality of life advantages. Using it to raise the upper body into a sitting position allows the user to comfortably eat, converse with family members, or watch a movie. The leg-raising feature is also extremely beneficial for users who experience pain in their legs thanks to pooling blood or swollen extremities.
What caregivers often neglect is their own personal well-being and quality of life. The Freedom Bed also addresses the needs of family caregivers by giving them the opportunity to enjoy uninterrupted sleep! The physical and mental requirements of family caregivers are immense. Often, disabled parents become sensitive about taking away from their children's lives. The Freedom Bed was designed with the caregiver in mind, eliminating the need to manually turn or reposition the bed user during the night. Importantly, eliminating manual repositioning removes the threat of back injuries to care givers.
The decision to take over the care of our disabled parents at home isn't one to take lightly, and yet it's one of the most gratifying experiences of our lives. Being able to give back to our parents and keep them in a familiar setting can do wonders for their physical and mental health. With the help of the Freedom Bed, caregiver and user can co-exist in such a way that puts the quality of life, happiness, and confidence at the forefront of care.