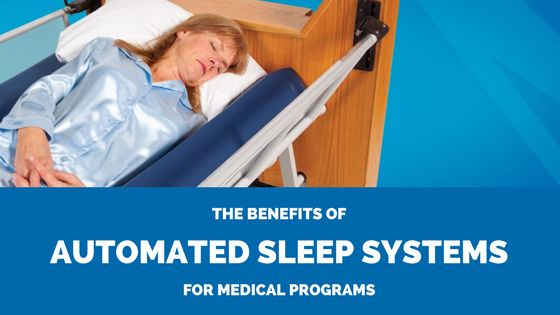 Healthcare CEO's cite efficiency and overall cost reduction as the top priorities within their respective organizations. With more and more sectors of the healthcare industry looking to cut costs and improve the efficiency of their staff members, night time care is becoming a focal area. Advances in automated patient rotation at night are providing for lower care costs, better patient outcomes and, importantly, less caregiver injuries resulting from the manual turning of patients.
ProBed Medical's Freedom Bed, a patented programmable lateral rotation therapy system allows medical staff to focus their energy on areas of care that need frequent, or ongoing, attention instead of repetitive manual turning of patients. It is widely recognized that with patient support services and tasks like turning and readjusting sleep positions, these simple tasks can easily be integrated to work alongside medical staff for increased efficiency and a reduction in subsequent salary costs.
Automation in Healthcare is Lagging
Consider that the western world is already feeling the effects of an aging population, healthcare facilities are already beginning to experience the effects of increased demand, meaning that automation will soon be depended upon, much as it already is in other sectors, like manufacturing, industrial applications, and even retail.
In the US alone, it's estimated that the projected registered nursing shortage will total 260,000 by 2025. As the baby-boom generation begins to retire and inevitably requires more healthcare services, this shortage could easily be magnified with the increased costs – and over time – of having a relatively small workforce catering to such a large demographic. Turning immobile patients throughout the night requires little professional training, and as such, serves as the perfect vessel to adopt automated sleep systems as a perfect solution to pending shortages.
CFO of Dallas Parkland Health and Hospital System, John Dragovits, told HealthLeaders Media in 2012 that he estimates upwards of 50% of hospital budgets are allocated to salaries and benefits. By adjusting the viewpoint of the healthcare industry to adopt more automated systems that benefit their growing patient base, automation of sleep systems is an easily acquirable system that is not only simple to implement but is cost-effective, and efficient.
Improvement of Quality Medical Care
Automated systems greatly reduce the likelihood of staff fatigue, exhaustion, and the potential for error. Automation also contributes to streamlined schedules and fewer overtime hours that contribute to employee satisfaction and a reduction in subsequent costs. Manual tasks like turning a patient during the night can be automated by the ProBed Freedom Bed sleep system and can contribute directly to issues of consistently as well, reducing easily preventable medical symptoms associated with sleep cycles in immobility like pressure ulcers (bed sores) and insomnia due to chronic discomfort.
Automating sleep systems within medical programs elevates the level of care and professionalism focused on patients, rather than dividing resources and time away from patients that need to be said attention.
Imagine a hospital administration team desperately trying to allocate both funds and resources to a fledgling program that needs direct attention. With staff shortages looming in the near future, innovative programs that require staff support can be left underdeveloped and ignored without the increased availability and time-management benefits of automated systems. Therefore, the improvement and diversity of innovative medical programs and care will soon depend largely on the ability of healthcare staff to dedicate their time elsewhere, while easily automated tasks function without the need for human intervention.
Broaden Experience with New Equipment
Change to the healthcare industry is coming. The adoption of new, technologically advanced equipment and apparatus' will soon become a staple experience for most healthcare staff. Integrating simple automated systems early on allows for this cognitive and occupational change to give both the experience of additional training for and the reduced time limitations in providing traditional care.

Cost Savings
Many private users of automated sleep systems struggle with the implied costs of such equipment. One of the biggest questions and concerns ProBed receives from users of our automated sleep systems is 'How will I afford this?"
We certainly understand the extrapolated expense that adopting an automated system can mean for an entire medical program or healthcare facility. Consider that the average total costs for full-time registered nurses in the US can average $98,000/year, or about $45 per hour, according to the U.S. Hospital Nurse Labor Cost Study produced in 2011 by the KPMG Healthcare & Pharmaceutical Institute. Of this nursing staff, about 60% work regular overtime hours. This can easily translate to an average salary of over $110,000/year. Now multiply that number by 15 registered nursing staff per medical facility – that equates to an approximate $1.65 million annually.
Now, consider that the one-time cost of adopting a ProBed automated sleep system costs under $50,000. To adopt automated sleep systems in a hospital setting or within a specialized medical program, one facility could be reduced to spending as little as $450,000 for 10 automated ProBed systems. The cost savings are substantial.
---
Further to the reduced financial obligations, and reduction in staff fatigue and exhaustion, the benefits are many. Patients and users of automated sleep systems experience a better quality of sleep and a deep feeling of sustained dignity when they do not have to be turned numerous times each night by overworked staff. This results in increased staff/patient respect and trust.
As well, the looming advance of automated systems in medical programs and healthcare facilities means that the inclusion of these systems now will give prestige and authority to organizations that embrace the technological advance with open arms. The added perceived expertise, in turn, adds authority and esteem to the groups that see, and integrate these automated systems into their everyday operations early on.