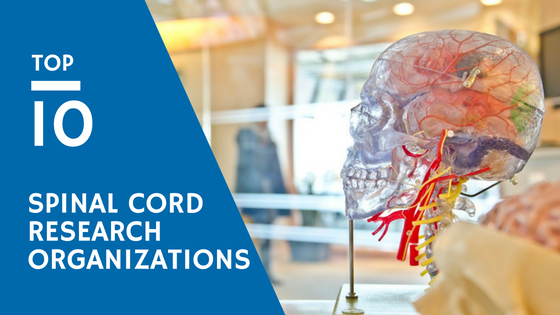 Incredible advancements in the field of spinal cord injury (SCI) research are unearthed every day.
In fact, 90% of all spinal cord research information has been discovered in the last two decades, meaning there is an increasing level of support, information, and funding available to people with spinal cord injuries; the global SCI community is in better hands than ever before.
There are countless organizations who support and advocate for those who suffer from various forms of spinal cord injuries, financially, informationally, and emotionally. Here's a list of top spinal cord research organizations.
The Canadian Spinal Research Organization (CSRO)/American Spinal Research Organization(ASRO)
The CSRO/ASRO is dedicated to building awareness and support for priority bench to bedside research projects, as well as actively pursuing meaningful and collaborative partnerships that could help to find a cure. The group fundraises as a charitable organization and contributes to initiatives that effectively utilize funds to reap the greatest returns.
The organization was built with the hope that a cure was possible, and continually educates others on the status of priority research projects.
Additionally, the CSRO/ASRO seeks to inspire and connect the entire SCI community to share and support the belief that a cure will be found.

American Spinal Injury Association (ASIA)
A premiere North American organization dedicated to the field of spinal cord injury care, research and education.
Core values of ASIA include discovery and knowledge translation to members of the upcoming generation, interdisciplinary collaboration and to foster research that aims at preventing spinal cord injuries, improving care, reducing disability and finding cures to both acute and chronic SCI.

Christopher and Dana Reeve Foundation
Formerly the American Paralysis Foundation and the Christopher Reeve Foundation, a merger that helps support research in the development of effective treatments and a cure for paralysis caused by SCI.
The foundation's NeuroRecovery Network is a network that supports cutting-edge clinical rehabilitation, funded by the Reeve Foundation, in 6 clinical centers and 5 rehabilitation/community fitness and wellness centres that help develop and provide activity-based therapies that promote functional recovery in those affected by SCI, and improve the health of people with paralysis.

The Miami Project to Cure Paralysis
Co-founded in 1985, the Miami Project is the world's most comprehensive spinal cord injury research center, is located at the University of Miami Miller School of Medicine, and is a designated Center of Excellence dedicated to conducting cutting-edge research and discovery targeting spinal cord and brain injuries.
The Miami Project employs over 300 scientists, researchers, clinicians, and support staff who undertake innovative approaches to offering support and treatment of SCI and brain injuries.
Their clinical trial program includes cell transplantation, therapeutic hypothermia, deep brain stimulation, and their discovery program is currently investigating immune modulation, and regeneration mechanisms.

Mike Utley Foundation
Founded after Detroit Lions' offensive guard, Mike Utley was paralyzed in an NFL game in 1991, this non-profit foundation serves to financially support effective function-restoring treatments for spinal cord injuries and to encourage a rehabilitative lifestyle through education and public awareness.
The foundation is dedicated to finding a cure for paralysis and provides motivational and emotional support for those living with such injuries.
In addition to clinical studies and research, the Mike Utley foundation supports families and patients through assistance programs, patient equipment, patient and family education and therapeutic recreation for those living with SCI's.

United Spinal Association
Dedicated to enhancing the lives of all people living with spinal cord injuries, including veterans, the United Spinal Association was founded in 1946 after WW11 by paralyzed veterans in NYC who were advocating for greater civil rights and independence for themselves and fellow veterans.
Today, the Association is the largest non-profit organization dedicated to fostering support and education for those living with spinal cord injuries. They focus heavily on the inclusion of those with living with SCI's and advocate for active lifestyles, peer support, and the sharing of education and information.

Spinal Cord Society
The Spinal Cord Society has remained dedicated to finding a cure for spinal cord and related neural problems since 1978, when Charles Carson, PhD founded the international organization.
The SCS distributes a monthly newsletter, providing education, networking and support for those affected by SCI and has supported many innovative research projects. 100% of funds raised by the SCS go directly to research.

Spinal Cord and Brain Injury Research Center
Located at the University of Kentucky College of Medicine, the Spinal Cord and Brain Injury Research Center was established in 1999 to help promote individual and collaborative studies on injuries to the brain and to the spinal cord.
Working closely with the Cardinal Hill Rehabilitation Hospital, the goal of the Center is to build upon medical advances and demonstrate the potential for repair of damaged neurons.
The Centre is dedicated to finding more effective treatments and to ultimately achieve functional repair to injured spinal cords and brains. Studies conducted here range from fundamental neuroscience research to gene therapy, to clinical applications.

Roman Reed Foundation
The Roman Reed Foundation provides support and financial funding to ongoing research practices for spinal cord injury and regenerative medicine conducted by leading universities, scientists and various organizations all in the name of finding a cure for paralysis.

W.M. Keck Center for Collaborative Neuroscience - The Spinal Cord Injury Project
The W.M. Keck Center's mantra has long been to bring effective treatments to those suffering from spinal cord injuries. The collaborative nature of the Center conducts multidisciplinary collaborative research that aims to accelerate the discovery of scientific advancement into effective human therapies.
The 10,000 square foot facility has specialized laboratories dedicated to molecular, cellular and tissue analyses, as well as a state-of the-art confocal facility, and is designed to be an open, and interactive space.
The Center profoundly believes that "a cure is achievable and that collaboration is the means by which that goal will be reached."