Lateral Rotation Bed For Veterans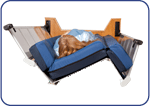 The Freedom Bed™ is an automated, patient rotation bed designed specifically for long-term home care. This unique medical bed automatically turns its users to differing stable sleeping positions without the help of caregivers. The bed also features an intuitive air-powered head and leg raising system so users can be raised into a sitting position.
The Freedom Bed™ smoothly and quietly rotates its users from one side to the other, mimicking the natural nocturnal motion of the body, providing dramatically improved quality of sleep, and reduces many health risks associated with long-term immobility.
The lateral rotation therapy offered by the bed repositions the body and restores blood flow to compressed tissue to prevent pressure injuries such as bedsores. The Freedom Bed™ also boasts an impressive record of developing feelings of independence, a strong sense of self, and restoring integral quality of life for its users.
The Freedom Bed™ assists veterans to live fuller, healthier, and happier lives at home, or in the facility.
ProBed Medical works with Veterans and the VA nationwide, and has a VA Federal Supply Schedule Contract #36F79720D0184. We urge everyone affected by long-term immobility to speak with one of our qualified medical bed specialists to discuss how ProBed Medical can address your specific needs, improve your clinical outcomes, while providing more comfort and better sleep.